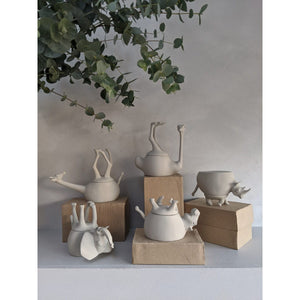 Say hello to the Upside Down animals.
Collect a full set of 5 animals or single animals and mix and match as you like.
A modern take on animals typically found around Africa. Beautiful made and muted colours. They can be used as objects in decor, perfect for gifting and small items storage.
Each sleeping animal pot is a whimsical, functional take on the traditional wood carving found across Africa. Every pot is individually hand-crafted by Bangwe Carvers of Malawi, made out of wood, making it 100% unique.
Imperfections should be expected and simply add to the charm of your handmade pot.
A complete set; Elephant, Rhino, Ostrich, Giraffe, and Hippo